Créé en 2004, le label Circum-Disc veut présenter, sous un autre support que le concert, une musique nouvelle (jazz, musique expérimentale et improvisée), avec une véritable ligne artistique, tant du point de vue du son, de la musique que du graphisme. Cinq nouveau disques paraissent en avril et mai 2021.

Circum-Disc is a french label created in 2004 wich presents, in a medium other than the concert, new music (jazz, improvised and experimental music) with a real artistic line, both in terms of sound, music or graphic. Five new records are published in april and may 2021.
*

Le projet protéiforme de David Bausseron est né en 2010 au détour d'une trouvaille de matière première dans une benne-poubelle d'une petite usine métallurgique de la Vallée du bout du Monde à Thiers. Ce disque, "Maelström" est une sélection d'enregistrements et un aboutissement de dix ans d'expérimentation sur des objets métalliques. Il réunit deux aspects du travail du guitariste sur le matériaux métal : acoustique et electroacoustique.

"Maelström" is a protean project created in 2010 after finding raw material in a dumpster of a small metal factory in the Vallée du bout du Monde in Thiers (France). David Bausseron's project is a selection of recordings and the result of ten years of experimentation with metal objects. It brings together two aspects of the guitarist's work on metal materials: acoustic and electroacoustic.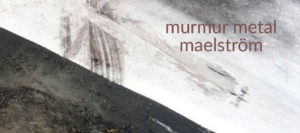 David Bausseron live in 2014 at 192! in Lille
La pièce "VRTN" de l'artiste Peter Orins est une variation de la pièce "Happened By Accident", objet du disque éponyme sorti en 2019. Elle reprend l'utilisation de la batterie en résonateur d'objets divers, bois, métal, verre, et la prépondérance de l'inattendu, par l'introduction d'accidents et d'interactions. Le musicien y ajoute le traitement électronique, qu'on retrouve dans son premier disque.
"VRTN" is a variation of the piece Happened By Accident", the subject of the eponymous album released in 2019. It takes up the use of drums as a resonator of various objects, wood, metal, glass, and the preponderance of the unexpected, by introducing accidents and interactions. The musician adds electronic treatment, which we find in his first record.
Premier album de Banusoi, groupe tchécoslovaque qui sort donc "imagines", collection d'histoires entrelacées, mélange délicat de matériaux abstraits et bruts, métissées d'improvisation radicale et de sons électroniques, sans oublier quelques mélodies surgissantes.

First album by Banusoi, a Czechoslovakian group which is therefore releasing "imagines", a collection of intertwined stories, a delicate mix of abstract and raw materials, mixed with radical improvisation and electronic sounds, not to mention some popping melodies.
Un disque du groupe
Le bruit des Dofs
avec
Jean-Louis Morais
(guitare),
Olivier Verhaeghe
(basse) et
Charles Duytschaever
(batterie) : un jazz puissant aux accents psychédéliques imprégné de rock progressif qui clame sa rage, goûte la transe et plonge dans un délire frénétique.
A CD by the band Le bruit des Dofs with Jean-Louis Morais (guitar), Olivier Verhaeghe (bass) & Charles Duytschaever (drums) : a powerful jazz with psychedelic accents imbued with progressive rock which proclaims its rage, tastes the trance and plunges into a frenetic delirium.